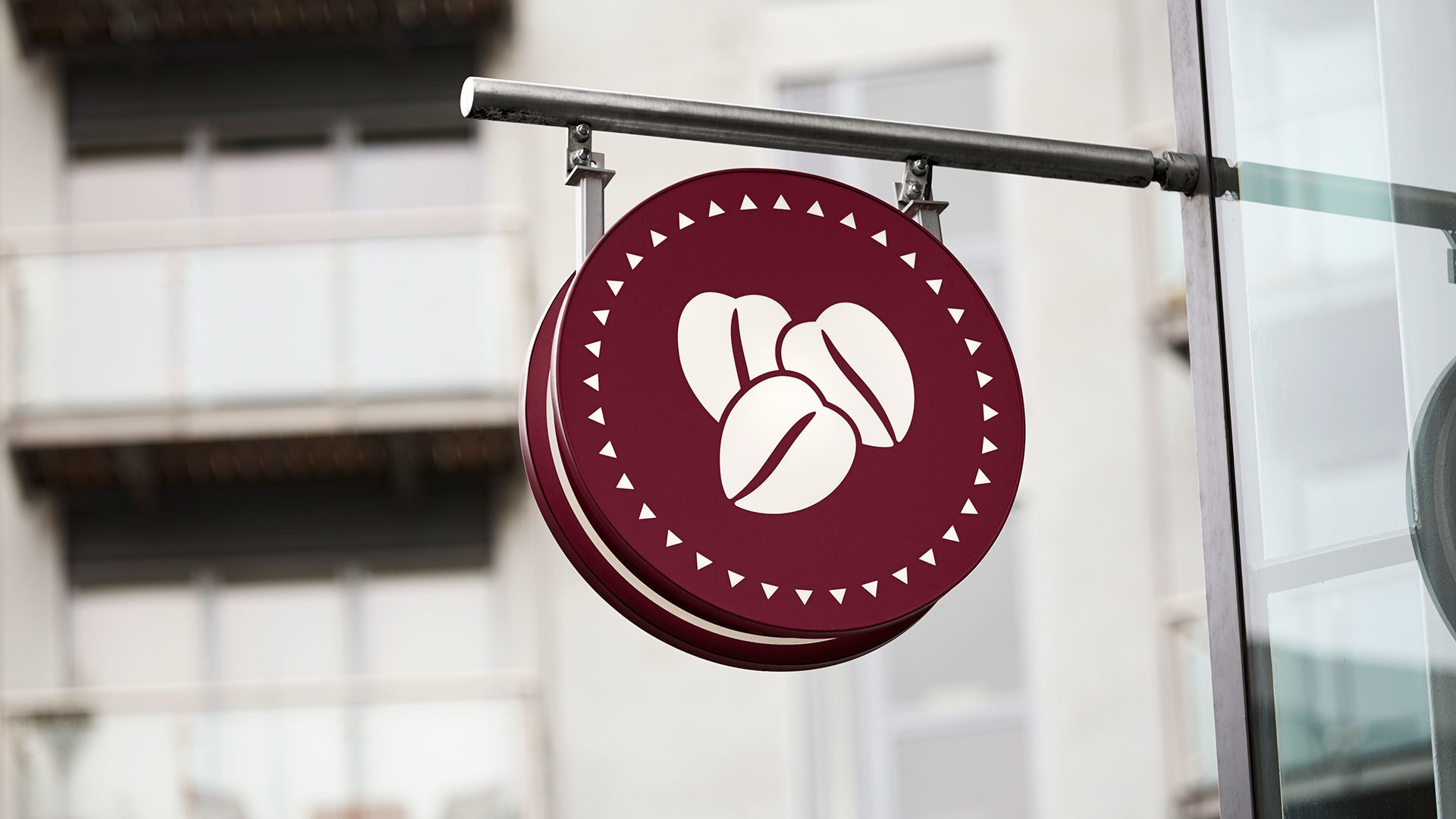 Cos­ta Coffee
Wak­ing up a ubiq­ui­tous brand in decline
Brand Strategy
Visual & Verbal identity
Personality
Store design
Brand launch
We gave Cos­ta Cof­fee back its oomph. By boost­ing its cof­fee cre­den­tials, we made it the des­ti­na­tion for cof­fee lovers the world over. Brand val­ue was instru­men­tal to the land­mark acqui­si­tion by Coca-Cola for £3.9 billion.
We retold their sto­ry as ​'the orig­i­nal Lon­don arti­san', built a dis­tinc­tive new store that was repli­cat­ed at scale, and cre­at­ed a bold new iden­ti­ty that com­bined craft, her­itage and Costa's very own red.
Points of frus­tra­tion on the cus­tomer jour­ney were trans­formed, like turn­ing the noto­ri­ous cof­fee col­lec­tion point into the Brew Bar where peo­ple could explore new cof­fees. Our ​'unchain the chain' approach was actioned across every touch­point – from new uni­forms to bespoke art to inspir­ing baris­tas with the tools to deliv­er their know-how. This think­ing sparked a cul­ture change across the entire organisation.
Jump straight to the Impact
RAD­I­CAL SIMPLIFICATION
Stripped back the three-bean-icon and intro­duced her­itage ele­ments from the very first Cos­ta Cof­fee iden­ti­ty to ampli­fy quality.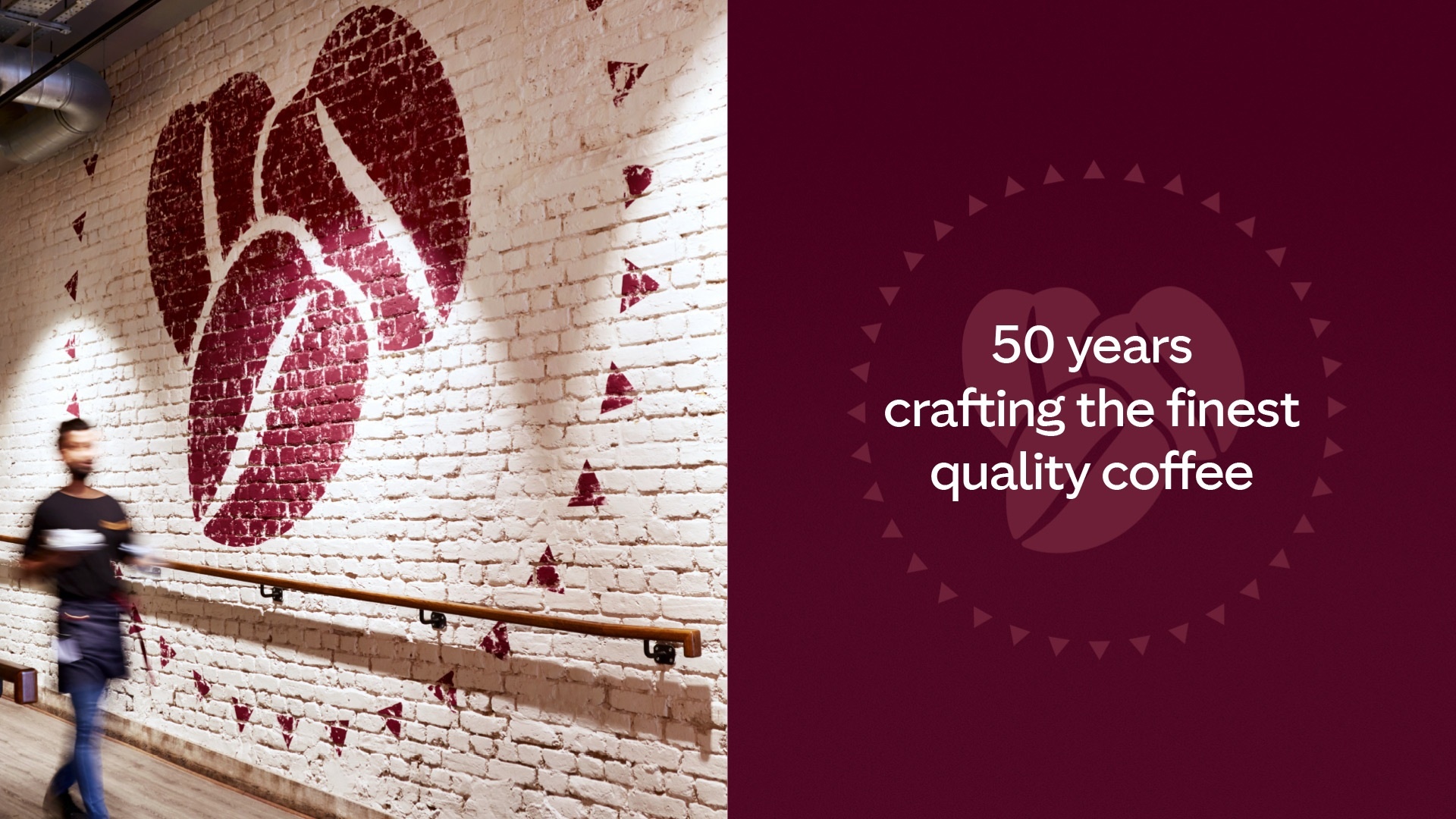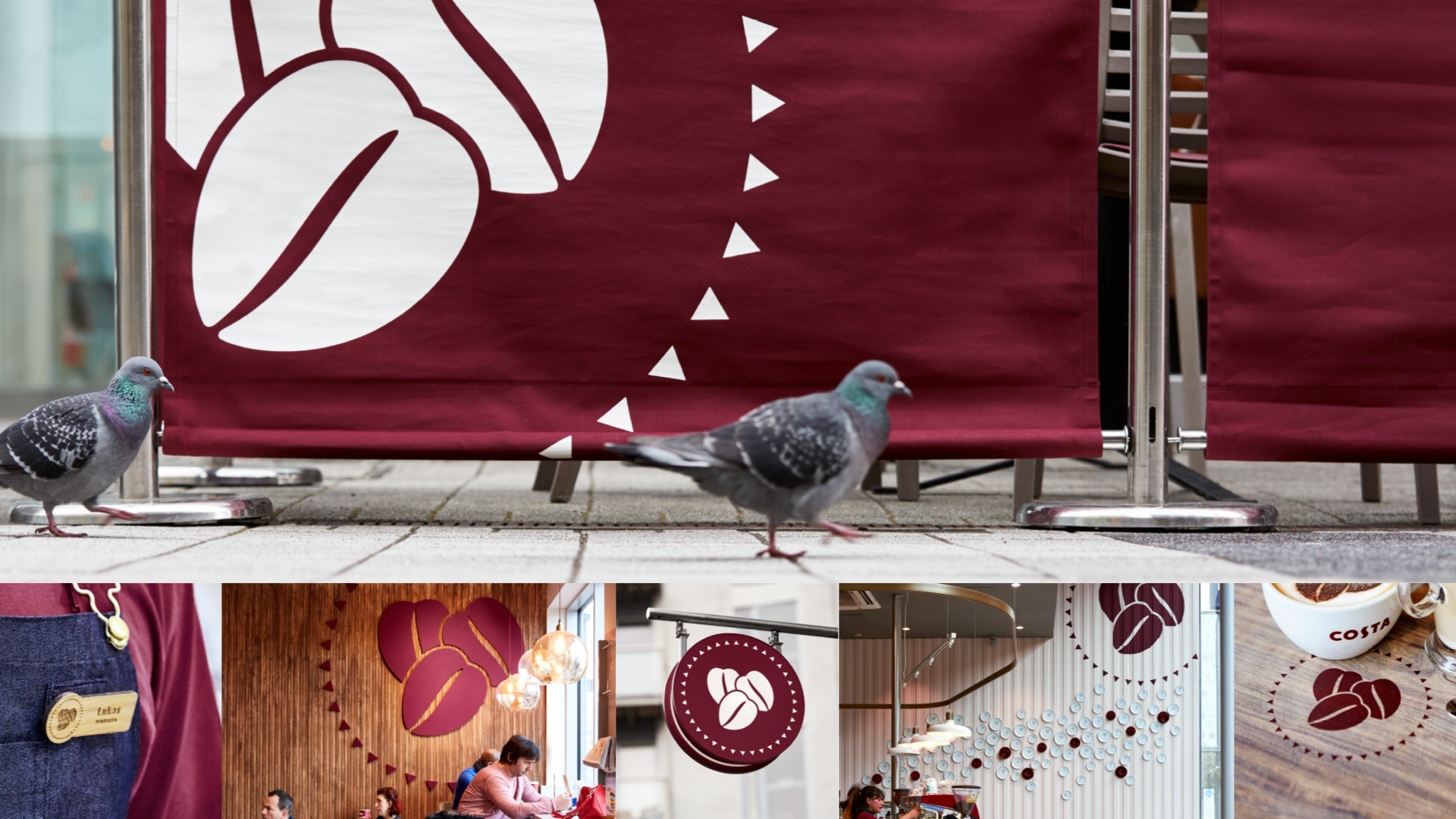 'COF­FEE' IS BACK
Putting ​'cof­fee' back in the Cos­ta Cof­fee word­mark to up the brand's credentials.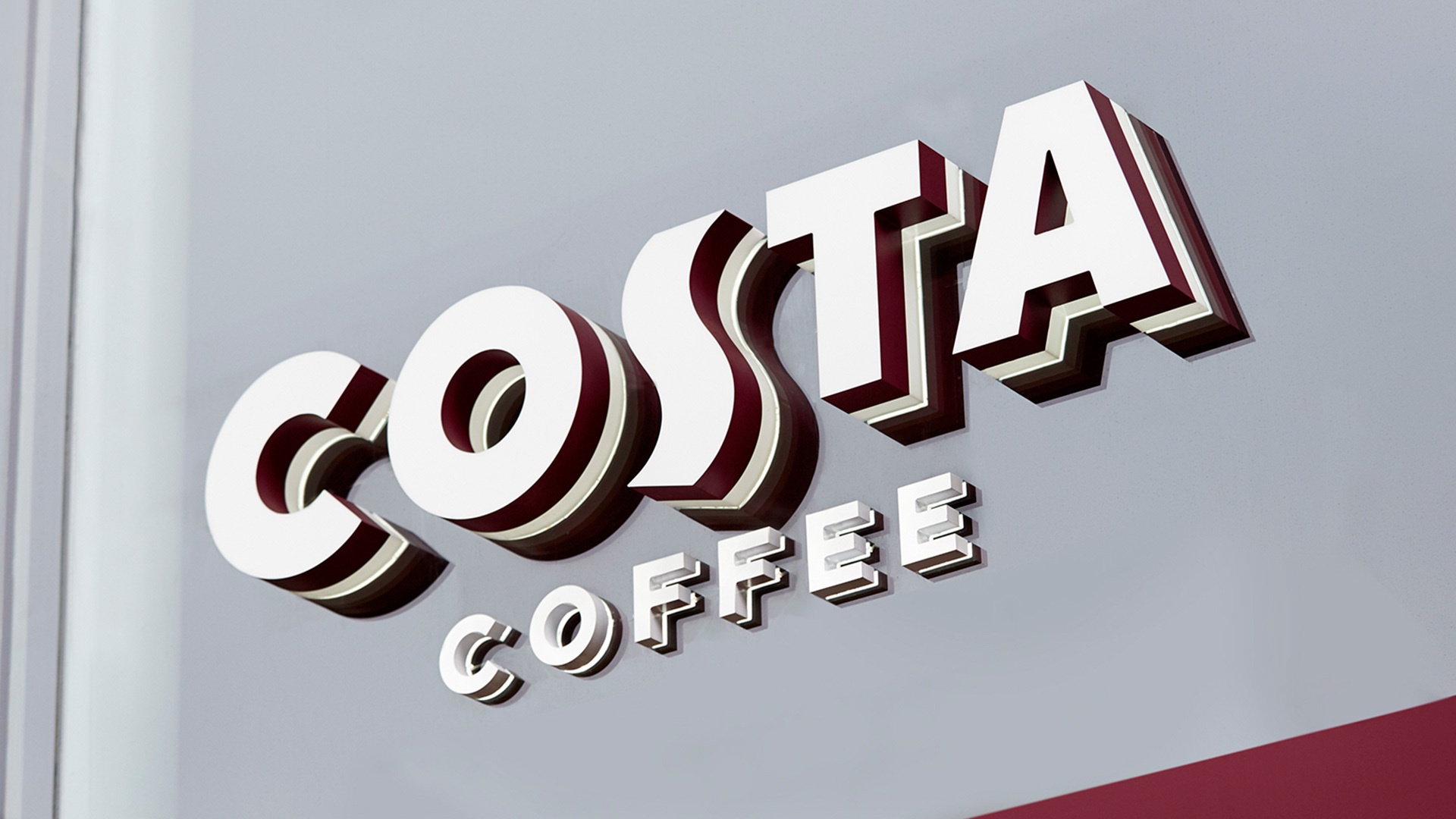 ICON­IC ​'COS­TA COF­FEE' RED
Cad­bury have pur­ple. Heinz have turquoise. We defined a glob­al­ly recog­nised Pan­tone, and gave red an active role in the cus­tomer experience.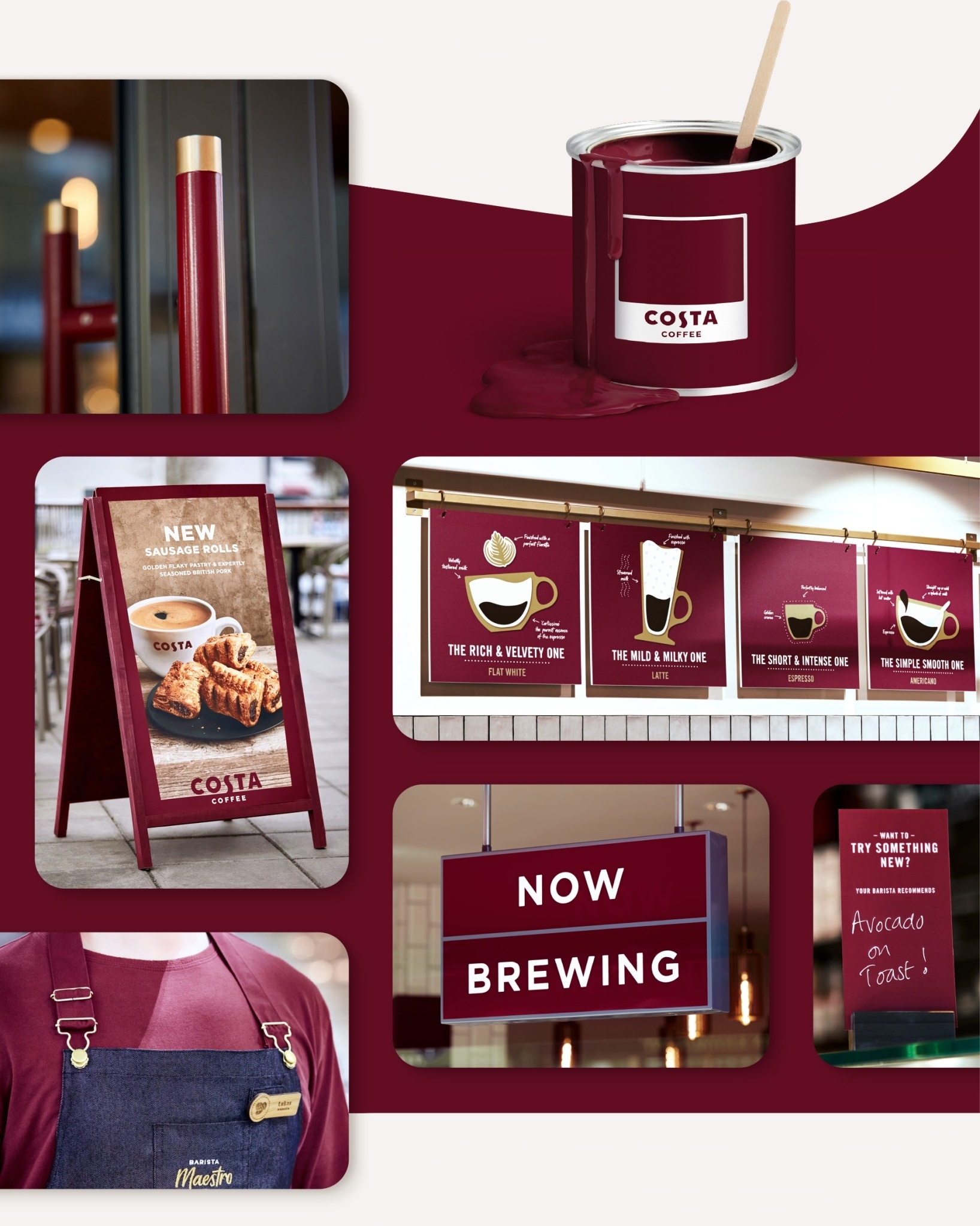 THE STO­RY BEHIND EVERY CUP
Show­cas­ing the ​'Lon­don born and blend­ed' sto­ry with hero wall art.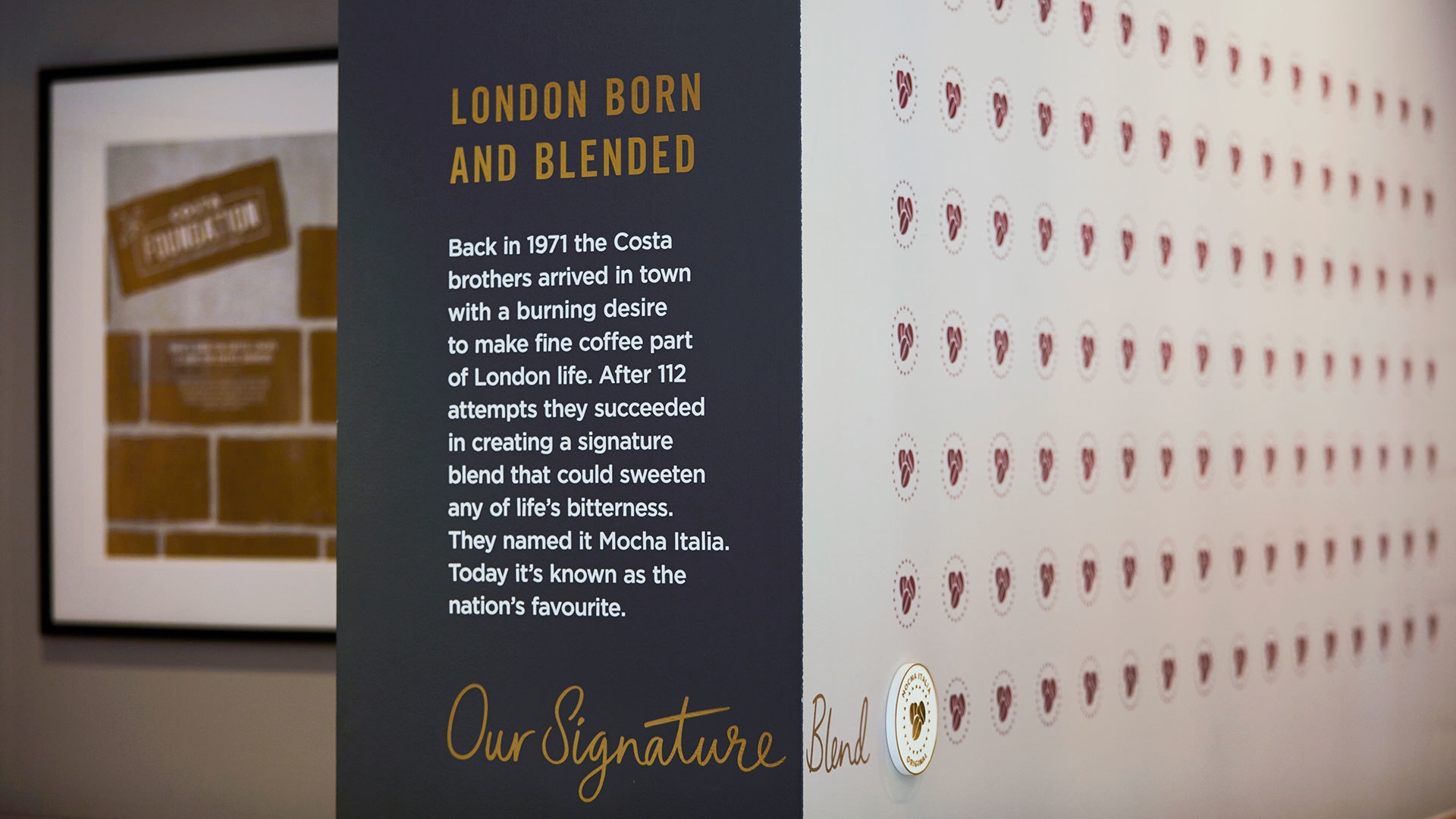 ODA always go beyond the brief. All the key rec­om­men­da­tions they made on our cus­tomer expe­ri­ence are now in the blue­print for our glob­al store design.
Deb Caldow, Global Head of Coffee Innovation, Costa Coffee
MORE PER­SON­AL­I­TY.
MORE INDI­VID­UAL.
Sto­ry­telling and bespoke art replaced cor­po­rate-look­ing design elements.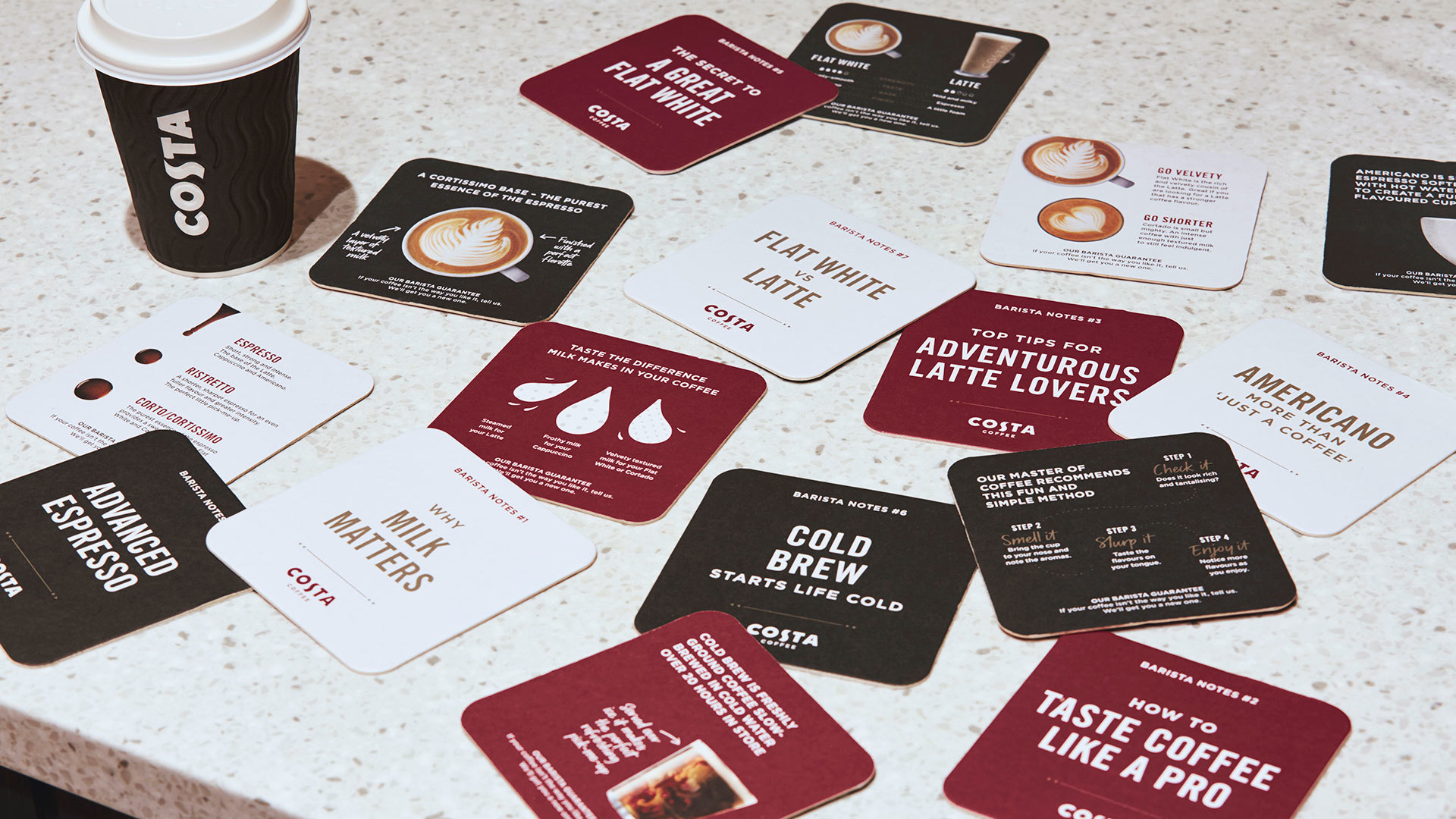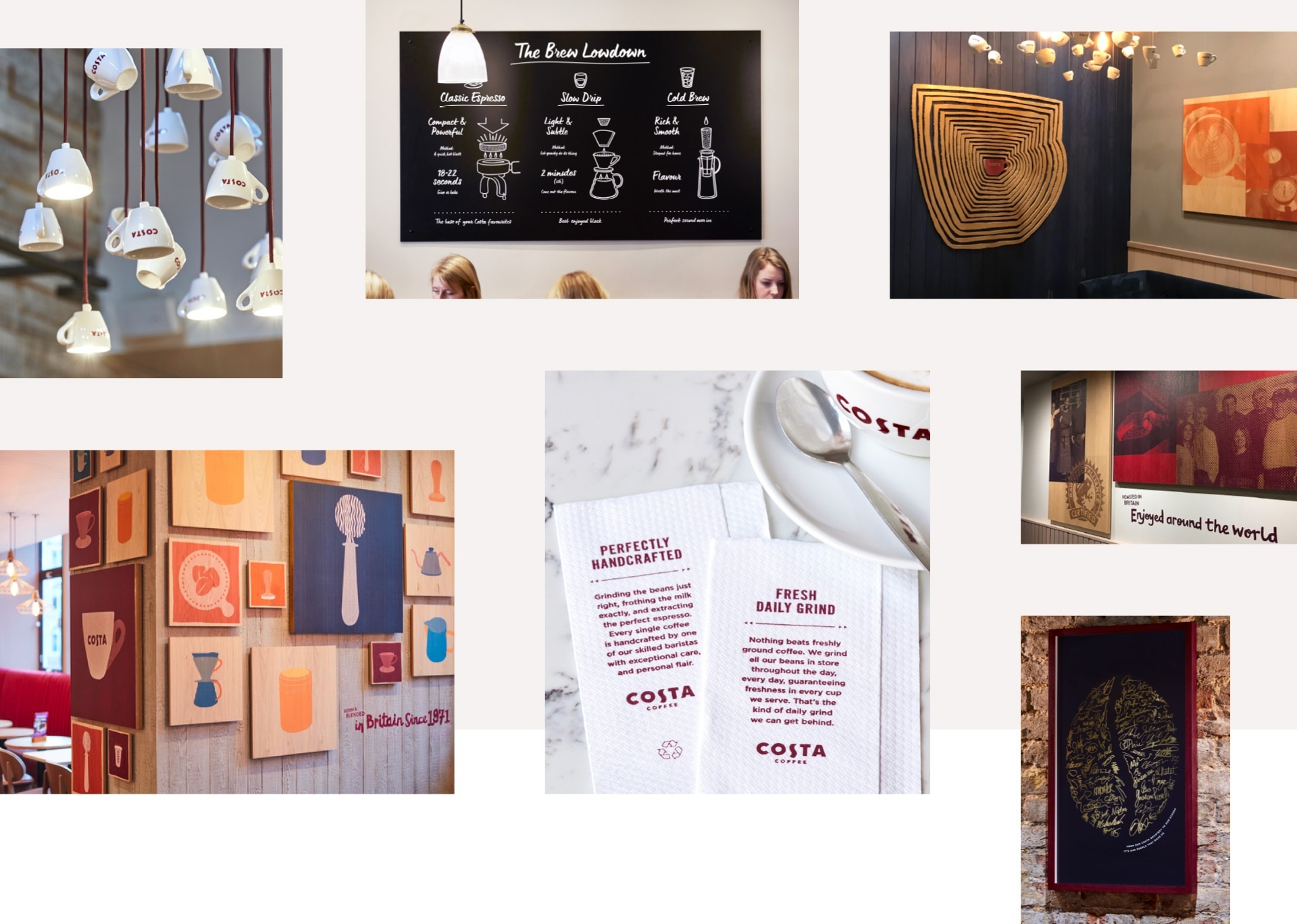 BARIS­TA'S BECOME CRAFTSMEN
With new uni­forms and low­er­ing the counter to hero them at work.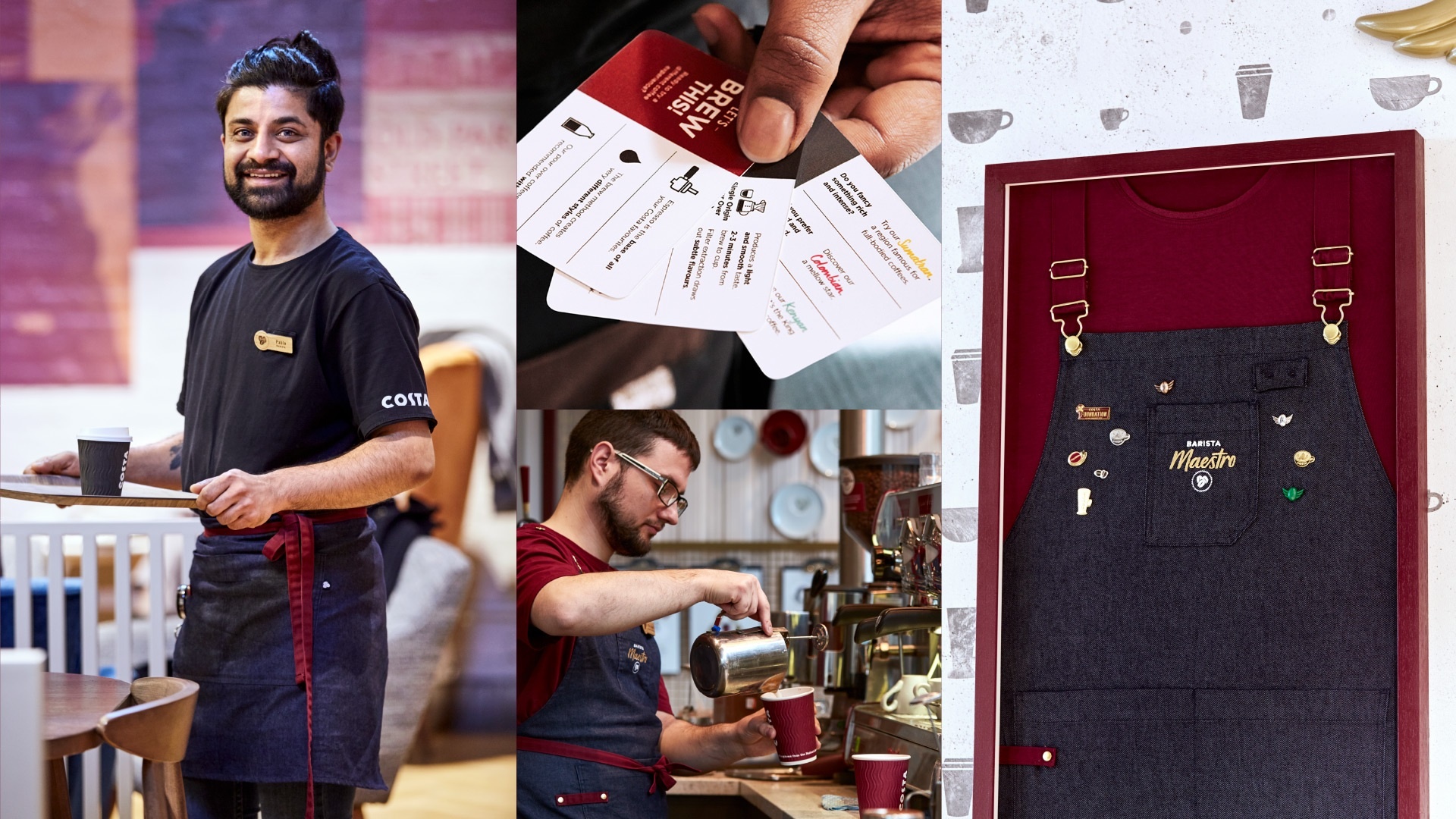 CRAFT­ED BRAND EXPERIENCE
Using tex­tures and sus­tain­able mate­ri­als just like independents.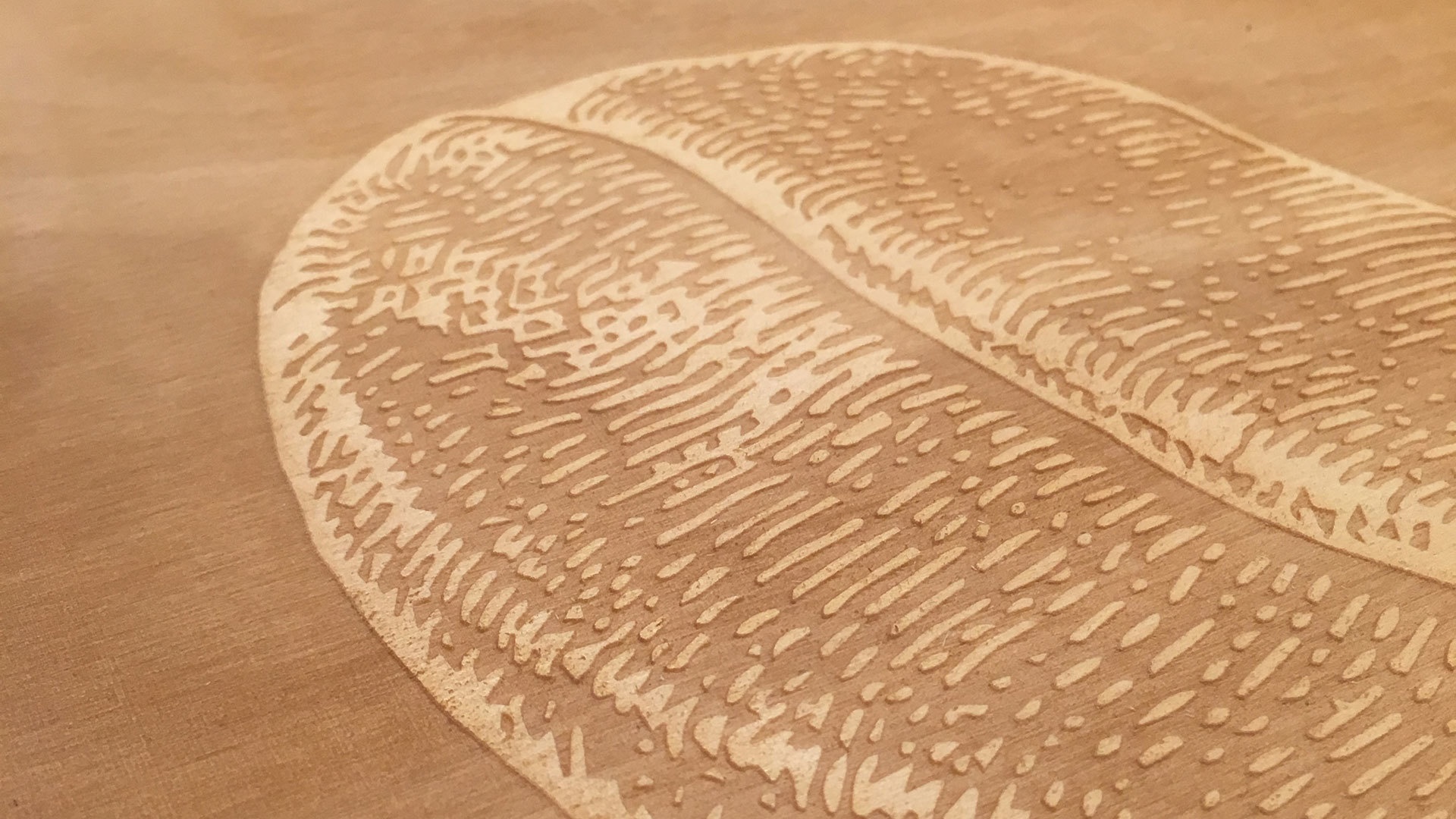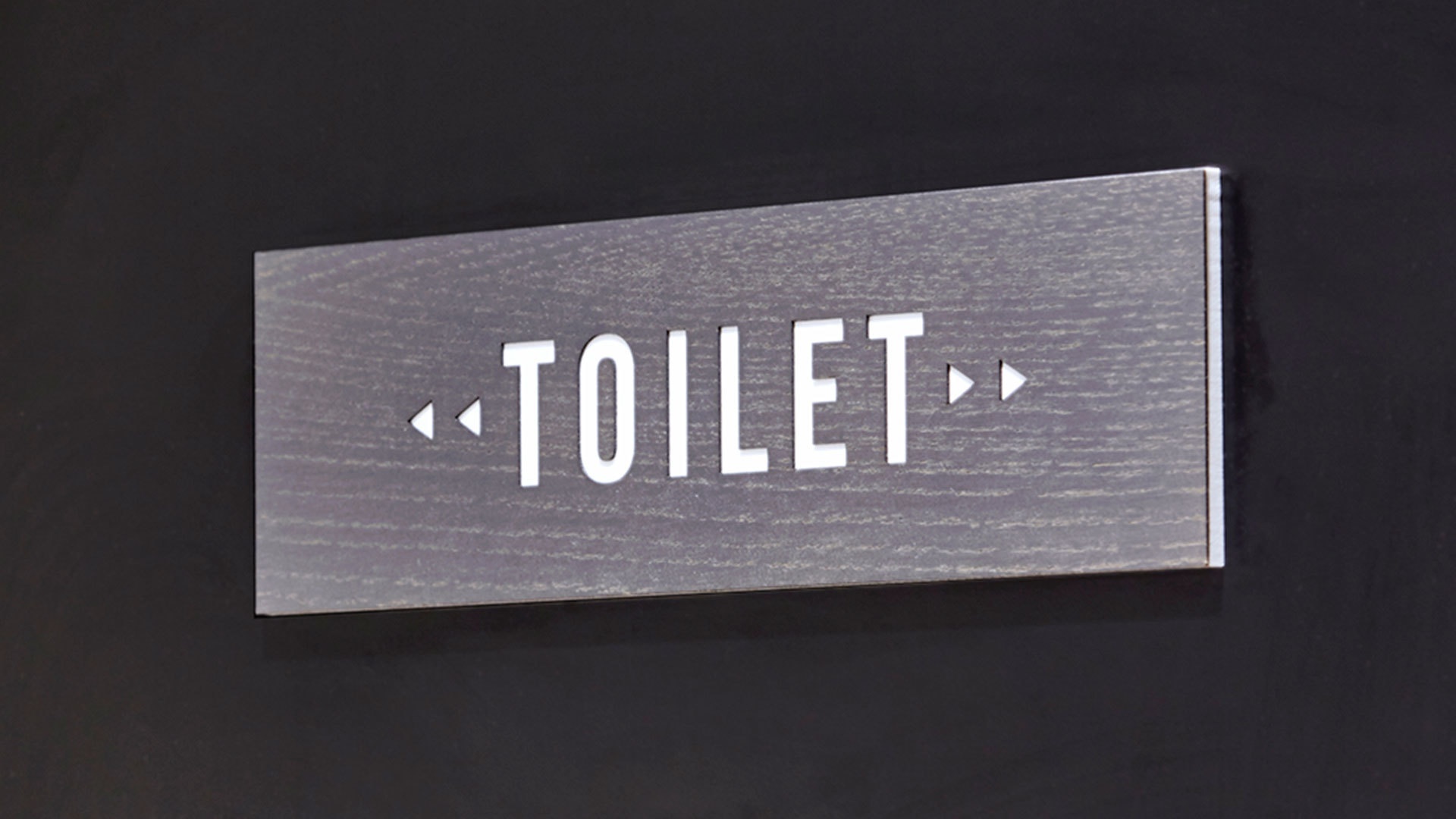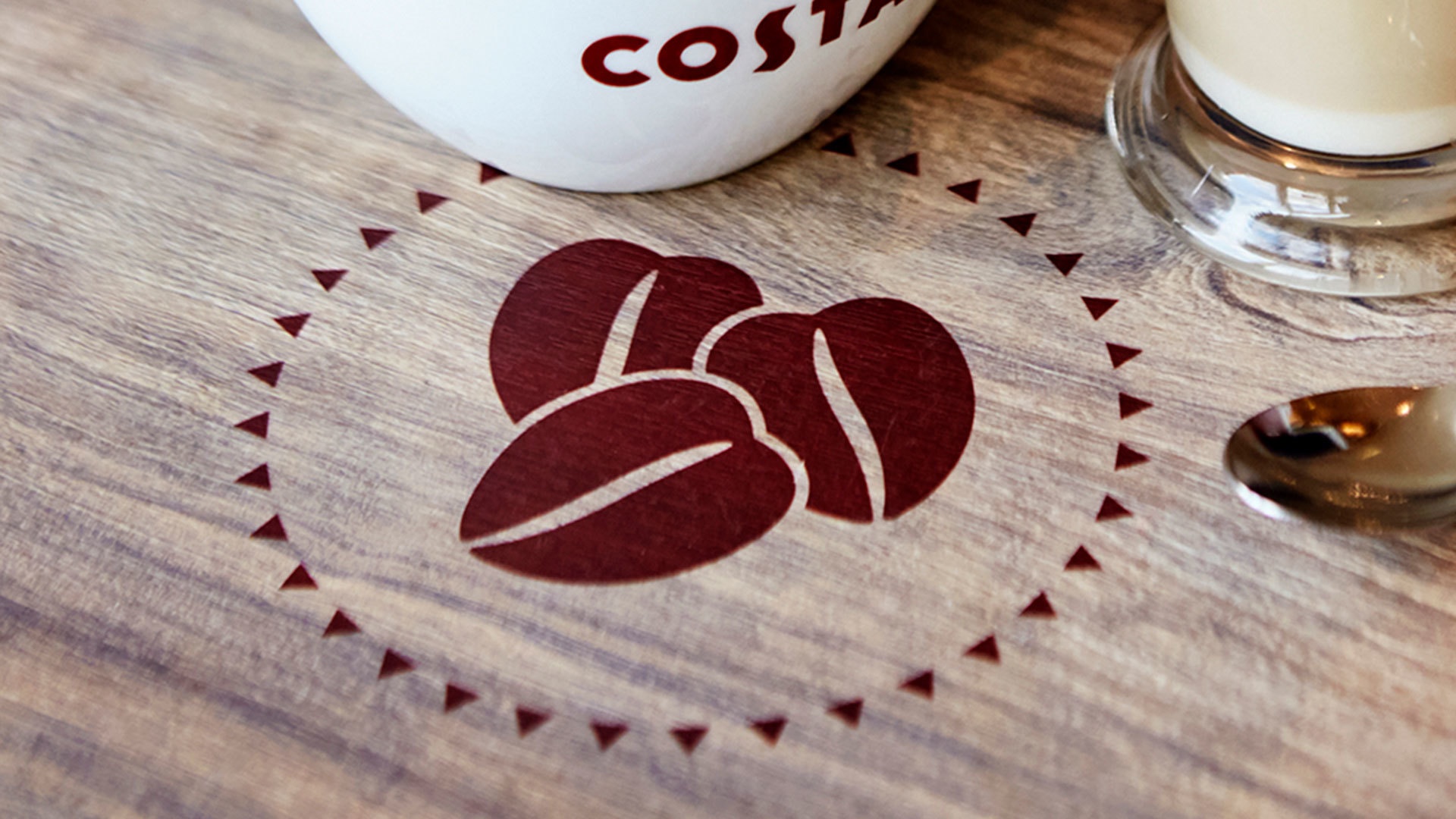 WELCOME TO THE BREW BAR
Introduced a destination for coffee lovers to discover and trial.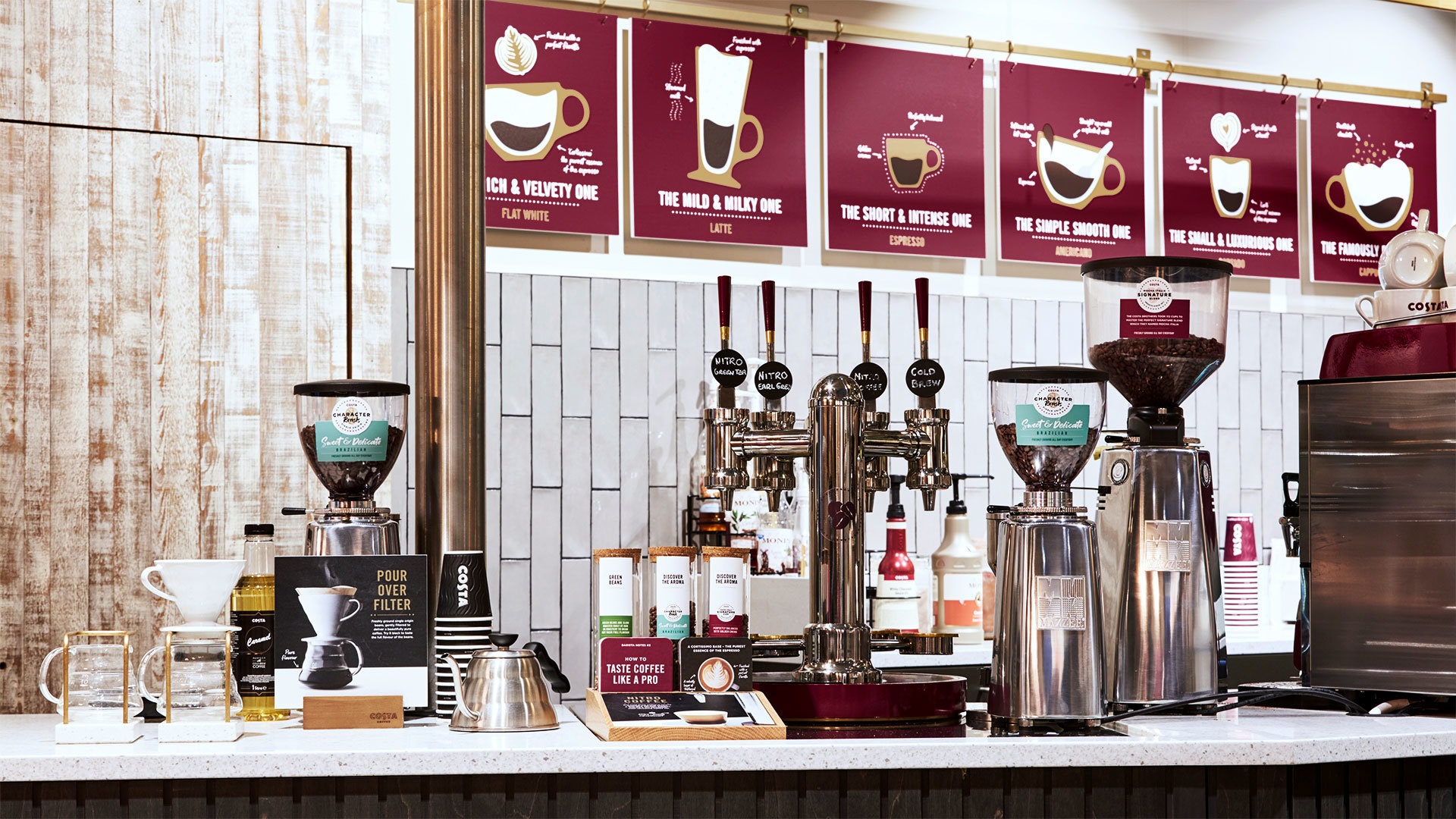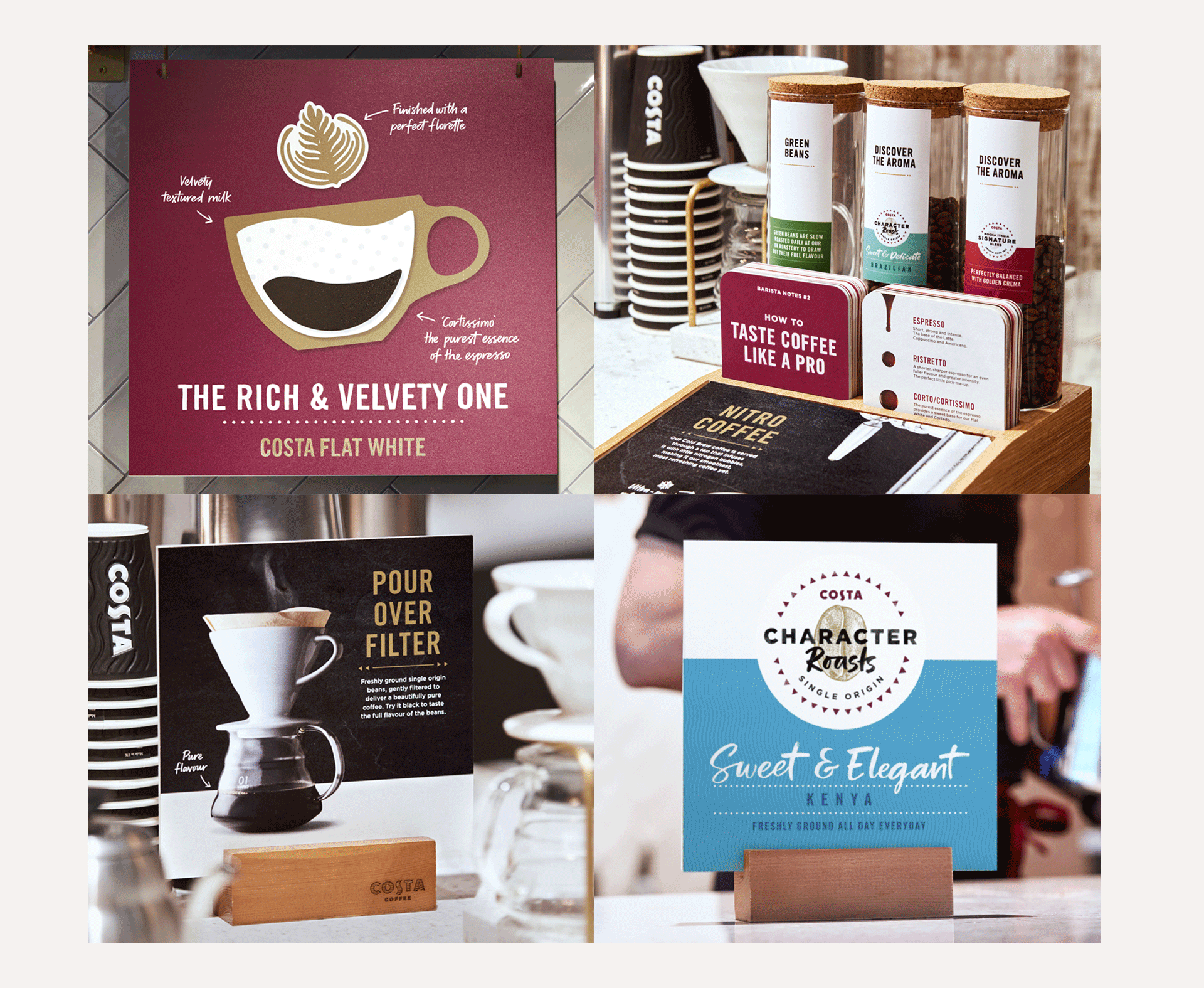 HAND­MADE GLOB­AL GUIDELINES
Over 200 colour toolk­its sent to all print sup­pli­ers for greater consistency.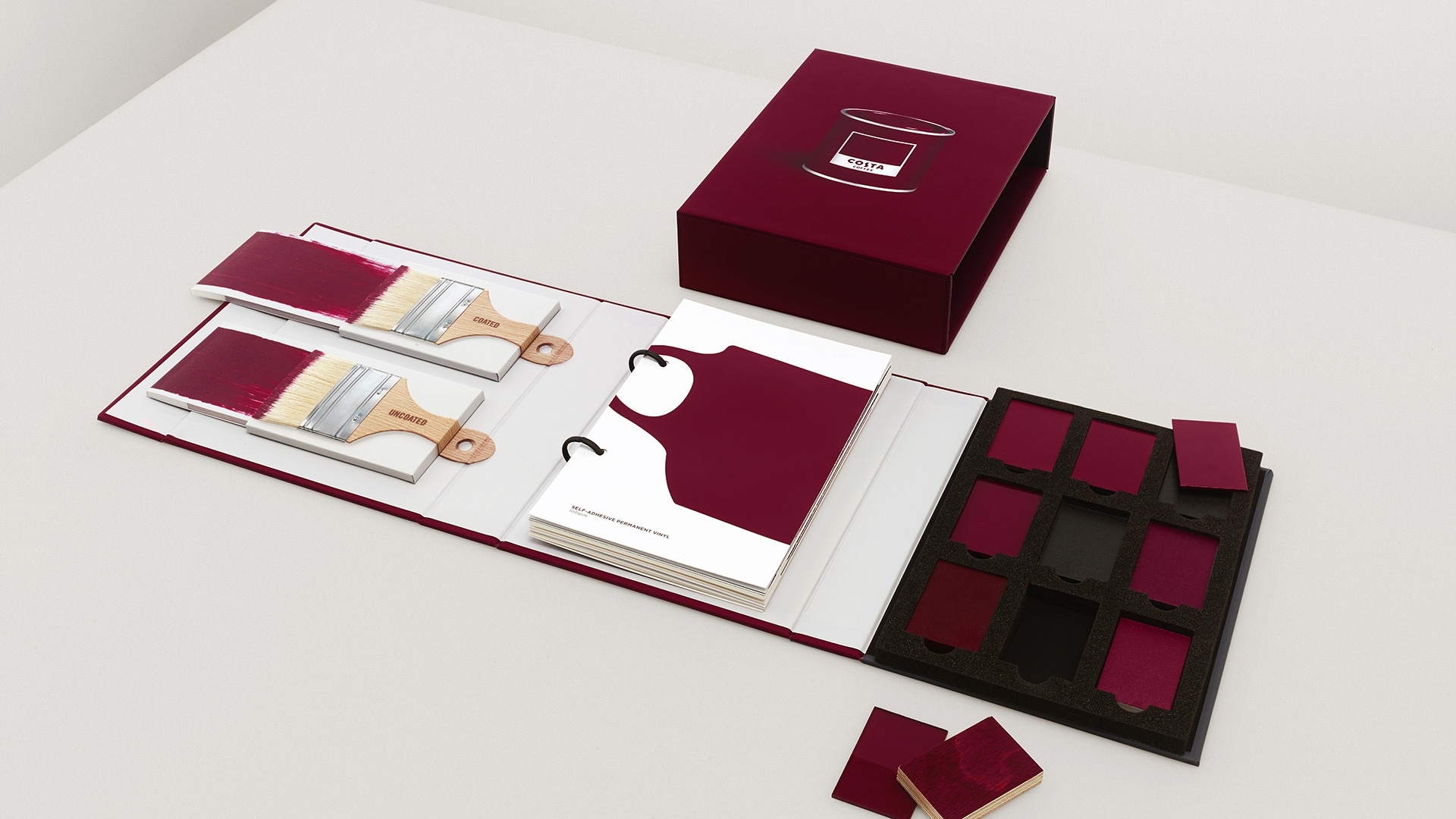 IMPACT
Fol­low­ing this work the sale to Coca-Cola val­ued the brand at £3.9 billion

Flag­ship stores saw dou­ble dig­it uplift in sales

Drove a KPI of 3 in 10 drinks sold as spe­cial­i­ty coffee

Improved sat­is­fac­tion with­in three months NPS scored 45