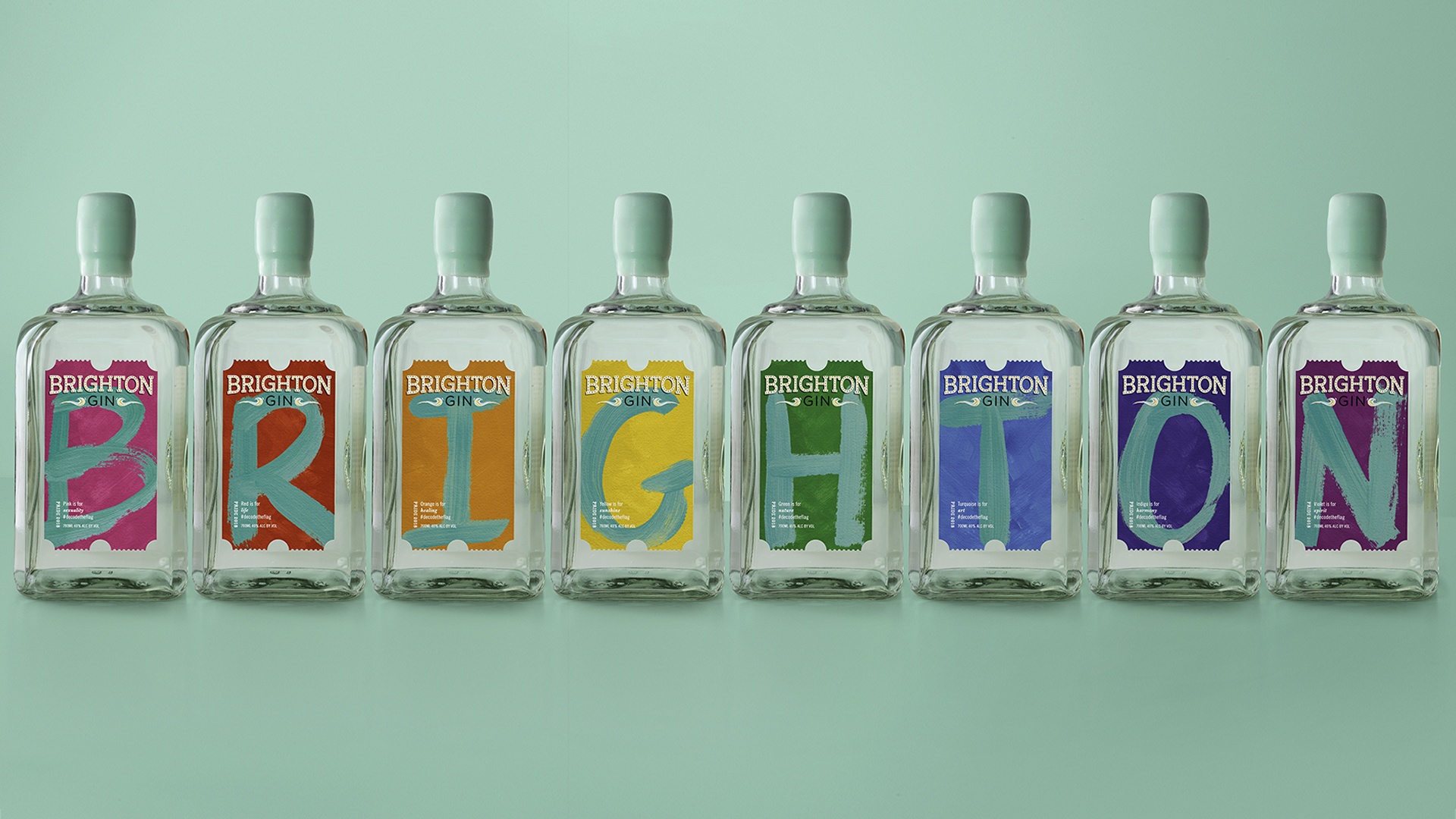 Brighton Gin features on Packaging Strategies
Brighton Gin's Col­or­ful Label Designs Cel­e­brate Pride
Cre­ative brand­ing and com­mu­ni­ca­tions agency Our Design Agency (ODA) reveals a bold design and strat­e­gy for Brighton Gin's lat­est Pride Lim­it­ed Edi­tion, inspired by this year's Brighton Pride theme — Col­or My World. The design fea­tures the eight col­ors from the orig­i­nal Pride flag com­mis­sioned by politi­cian and activist Har­vey Milk, and devised by artist Gilbert Bak­er in San Fran­cis­co in 1978 as the fes­ti­val returns to the his­toric flag this year.
ODA illus­trates Brighton Gin's hand-craft­ed cre­den­tials with hand-paint­ed let­ter­ing and cel­e­brates Pride in an authen­tic way. A por­tion of the prof­its from the lim­it­ed edi­tion go to The Rain­bow Fund, a Brighton and Hove-based grant giv­ing fund which sup­ports local LGBTQ+ and HIV/AIDS organ­i­sa­tions. The orig­i­nal icon­ic Seafront Blue Brighton Gin was also designed by ODA.
Pan­na Rose, Man­ag­ing Direc­tor, ODA, said ​"We want­ed to cre­ate a range where peo­ple could have fun by rear­rang­ing the let­ters or cre­ate their own gin col­lec­tion. It reflects the spir­it of Brighton and Brighton Gin. It's a true cel­e­bra­tion of diver­si­ty and the individual."
Sarah West­wood, Cre­ative Strate­gist, ODA, added: ​"The design oozes con­fi­dence. We want­ed to go big on Pride as part of Brighton Gin's brand per­son­al­i­ty and there­fore we cel­e­brat­ed the rain­bow in a way that would cre­ate real excite­ment in Brighton, par­tic­u­lar­ly as a dis­play as the city's res­i­dents and retail­ers dec­o­rate their win­dows for Pride and gear up for one the biggest cel­e­bra­tions of the year."
Col­lec­tive­ly the labels spell out Brighton (or oth­er words depend­ing on how they are arranged) and with eight let­ters in Brighton and eight colours in the flag, it was the per­fect fit. The range of eight unique bot­tles bear the indi­vid­ual flag colours which stand for sex­u­al­i­ty, life, heal­ing, sun­light, nature, art/​magic, har­mo­ny and spirit.
A sto­ry­telling link to each col­or fea­tures on the label and illus­trates how these qual­i­ties link to life in Brighton in a way that works across social media channels.
Each label bears a let­ter from the word Brighton, hand-paint­ed in the famous Brighton Seafront Blue on top of the flag col­or. The design reflects the brand propo­si­tion ​'Brighton Your Life,' a call to action to be more Brighton and enjoy a laid-back craft gin which helps peo­ple escape the hum­drum, open their minds and let their hair down. ODA removed all the brand graph­ics apart from the logo.
West­wood added: ​"The chal­lenge was to avoid a rain­bow flag cliché. In recent years many of the big brands have entered Pride and tak­en on the rain­bow as an easy sym­bol to asso­ciate with their brand, but Brighton Gin is different.
"It's a small com­pa­ny based in Brighton with diver­si­ty at its core, so we want­ed to cre­ate a lim­it­ed edi­tion that felt authen­tic. Our cre­ative con­cept was to cel­e­brate Pride, ded­i­cate a bot­tle to every colour and tell the sto­ry of the mean­ing of the flag. Togeth­er the bot­tles make up a whole, just like the flag itself."
The brand is releas­ing 1,400 bot­tles in the col­ors of the Pride flag, avail­able from fine local, inde­pen­dent retail­ers from June 29th at Brighton​gin​.com.